Brushing & Flossing with Braces
Online Dental Education Library
Dr. Goldman and his staff strive to improve the overall health of our patients by focusing on preventing, diagnosing and treating conditions associated with your teeth and gums. Please use our dental library to learn more about dental problems and treatments available. If you have questions, please contact us.
Oral and maxillofacial surgeons are unique among dentists in that they all have completed an additional four years of hospital-based training alongside medical residents, and can administer all types of anesthesia. If you have a diseased or impacted tooth that needs to come out, implants to be placed, a suspicious lesion that needs a biopsy, or any other oral health condition requiring surgical diagnosis or treatment, we can help. Learn more about Oral Surgery.
Snoring & Sleep Apnea
Chronic loud snoring is a common symptom of Obstructive Sleep Apnea (OSA), which occurs when the upper airway is blocked to the point of causing significant airflow disruption, or even no airflow whatsoever for 10 seconds or more. This can be a dangerous situation. Learn more about Snoring & Sleep Apnea.
Tooth Extractions
There are times when it is in your best interest to have a tooth extracted (removed). This could be the case for a variety of reasons, including: damage or trauma to the tooth; an impacted wisdom tooth that may cause trouble for you later on; or overcrowding. Learn more about Tooth Extractions.
Implant Dentistry
If you are missing one or more teeth, dental implants offer the comfort and security of a permanent replacement that looks and functions just like your natural teeth. Dental implants also help preserve the tooth-supporting bone in your jaw that deteriorates when even one tooth is lost.
Oral Diagnosis & Biopsies
When it comes to detecting certain oral or systemic (whole-body) diseases, a thorough dental exam may be your first line of defense. Learn more about Oral Diagnosis & Biopsies.
Bone Grafting
Bone grafting, a minor in-office surgical procedure, is commonly used in dentistry to correct deficiencies in bone quality and to build support for teeth or dental implants. Learn more about Bone Grafting.
Sedation Dentistry & Anesthesia
We want you to have the most comfortable dental treatment experience possible. That's why we offer sedation, to help you relax, and/or anesthesia, to block your sensations of pain. Learn more about Sedation Dentistry.
Facial Trauma & Reconstructive Surgery
Oral and maxillofacial surgeons are capable of treating the full scope of injuries to the structures of the face, mouth or jaws — including the teeth, the bones of the jaws and face, and the tissue of the skin and gums. We can also treat congenital defects such as cleft palate.
TMJ Disorders
If you have chronic pain in or around your jaw, or find the movement of your jaw is restricted, you may be suffering from a temporomandibular joint (TMJ) disorder. Learn more about TMJ Disorders.
Treating Dental Emergencies
We can treat a variety of traumatic dental injuries, including teeth that have been moved or knocked out entirely. Please call our office for assistance, or click here to learn more about what to do in a dental emergency.
You know how important it is to brush and floss properly when you're wearing braces — but what's the best way to do that? Let's start with the basic brushing tools: Either a soft-bristle brush or a bi-level brush (one that has shorter bristles in the middle and longer bristles at the edges) can be effective. Used carefully, an electric toothbrush can work just as well. But be sure the electric brush is set to a moderate power level, and don't let its vibrations cause the back of the brush to hit the braces!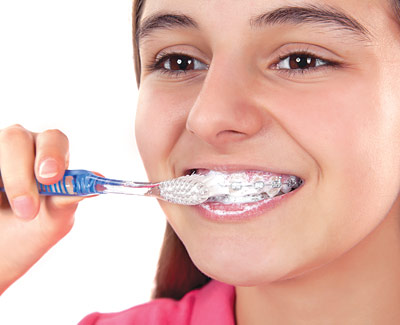 You should brush with a fluoride toothpaste at least two times per day (preferably after meals), for at least two minutes each time. Remember to brush all of the tooth surfaces: the outside, the inside, and the chewing surfaces as well. Be especially careful to clean the areas between wires and teeth, and between brackets and gums — that's where food particles can easily become trapped.
Here's a suggested brushing technique: Beginning at the outside surfaces, place the tips of the bristles flat against your teeth, and use small circular motions to gently polish them clean. For areas between braces and gums, tilt the brush toward the gum line (down for the bottom teeth, up for the top) while keeping up the circular motions. Next, move on to the chewing surfaces of upper and lower teeth, using a firm back-and-forth motion. Finally, finish up by carefully brushing the inside surfaces of the teeth the same way you did the outside surfaces.
Special Brushing Tools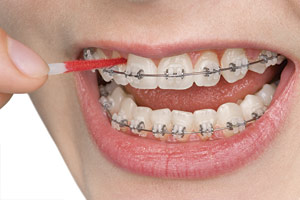 If you're having trouble cleaning the areas near brackets and wires, there are some special tools that may help. One is the interdental toothbrush, or proxabrush. It has a small tuft of bristles that stick up all around, like a pipe cleaner. Use it gently and carefully to clean the tiny spaces under wires and around bands and brackets.
Another special cleaning tool is the oral irrigator or "water pick." This device shoots a small stream of pressurized water at your teeth, which can help dislodge bits of food that become trapped in nooks and crannies. While it's easy to use, an oral irrigator isn't a substitute for a toothbrush or dental floss — but when used along with proper brushing and flossing techniques, it can be very effective.
Floss Fundamentals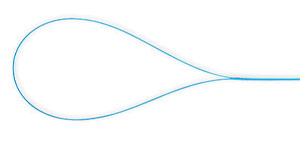 To keep your teeth and gums clean and healthy, you need to floss at least once per day. But how do you get floss under the archwire of your braces? It's not so hard with the help of a floss threader. Using this device is somewhat like threading a needle: You pull one end of floss through the threader, and then push the threader — carrying with it the free end of the floss — under the archwire. Now grasp the floss on each end and slide it up and down the sides of both teeth, and all the way under the gums until you hear a squeaky sound. Finally, pull it out and use a new section of floss for the next area.
Full Disclosure
Ever wonder how effective your tooth-cleaning techniques really are? There's an accurate way to tell, using special vegetable dyes called "disclosing solutions" or "disclosing tablets." As they dissolve in the mouth, these dyes highlight plaque and food debris that brushing has missed. You can then easily remove the dyed spots — and you'll know for sure if your oral hygiene methods need a little "brushing up."
Keeping your teeth and gums healthy now is an investment in your future. It enables you to get the best results from your orthodontic treatment, and starts you toward a brighter smile that can last for a lifetime.
Related Articles
West Hartford
(860) 231-0565