Online Dental Education Library
Dr. Goldman and his staff strive to improve the overall health of our patients by focusing on preventing, diagnosing and treating conditions associated with your teeth and gums. Please use our dental library to learn more about dental problems and treatments available. If you have questions, please contact us.
Oral and maxillofacial surgeons are unique among dentists in that they all have completed an additional four years of hospital-based training alongside medical residents, and can administer all types of anesthesia. If you have a diseased or impacted tooth that needs to come out, implants to be placed, a suspicious lesion that needs a biopsy, or any other oral health condition requiring surgical diagnosis or treatment, we can help. Learn more about Oral Surgery.
Snoring & Sleep Apnea
Chronic loud snoring is a common symptom of Obstructive Sleep Apnea (OSA), which occurs when the upper airway is blocked to the point of causing significant airflow disruption, or even no airflow whatsoever for 10 seconds or more. This can be a dangerous situation. Learn more about Snoring & Sleep Apnea.
Tooth Extractions
There are times when it is in your best interest to have a tooth extracted (removed). This could be the case for a variety of reasons, including: damage or trauma to the tooth; an impacted wisdom tooth that may cause trouble for you later on; or overcrowding. Learn more about Tooth Extractions.
Implant Dentistry
If you are missing one or more teeth, dental implants offer the comfort and security of a permanent replacement that looks and functions just like your natural teeth. Dental implants also help preserve the tooth-supporting bone in your jaw that deteriorates when even one tooth is lost.
Oral Diagnosis & Biopsies
When it comes to detecting certain oral or systemic (whole-body) diseases, a thorough dental exam may be your first line of defense. Learn more about Oral Diagnosis & Biopsies.
Bone Grafting
Bone grafting, a minor in-office surgical procedure, is commonly used in dentistry to correct deficiencies in bone quality and to build support for teeth or dental implants. Learn more about Bone Grafting.
Sedation Dentistry & Anesthesia
We want you to have the most comfortable dental treatment experience possible. That's why we offer sedation, to help you relax, and/or anesthesia, to block your sensations of pain. Learn more about Sedation Dentistry.
Facial Trauma & Reconstructive Surgery
Oral and maxillofacial surgeons are capable of treating the full scope of injuries to the structures of the face, mouth or jaws — including the teeth, the bones of the jaws and face, and the tissue of the skin and gums. We can also treat congenital defects such as cleft palate.
TMJ Disorders
If you have chronic pain in or around your jaw, or find the movement of your jaw is restricted, you may be suffering from a temporomandibular joint (TMJ) disorder. Learn more about TMJ Disorders.
Treating Dental Emergencies
We can treat a variety of traumatic dental injuries, including teeth that have been moved or knocked out entirely. Please call our office for assistance, or click here to learn more about what to do in a dental emergency.
Firmly anchored in your jaw and protected by an outer coating of tough enamel, your teeth are remarkably strong — yet it's still possible for them to chip, crack, or even break. In fact, there is some evidence that today, our teeth are developing cracks at a record rate. This may be due to the fact that people are living longer (giving teeth more time to accumulate damage), or that our stress levels are increasing (which may cause teeth clenching and grinding).
Biting on hard objects, receiving a blow to the mouth, or having large cavities (or old amalgam fillings) that weaken the tooth's structure are also common causes of tooth fractures. But no matter of the cause, there are a number of symptoms that indicate a tooth may be cracked, and several treatments we can offer, depending on the severity of the injury.
Small chips on the edges or cusps of teeth often cause no symptoms, and can be treated by cosmetic bonding or other methods. Deeply fractured teeth, on the other hand, may be a serious problem. The sooner they are treated, the more likely it is that the affected tooth can be saved. Let's take a look closer look at the types of fractures teeth can develop, and the symptoms they may produce.
Minor Cracks (craze lines)
These tiny fissures in the outer enamel of the tooth often cause few or no symptoms; in fact, most don't require treatment. If you are having tooth pain, however, these cracks will need to be evaluated and possibly treated. That's because without a careful examination, there is no way to know for sure whether these cracks go into only the enamel, or if they penetrate into the dentin (inner body) of the tooth. While the tiniest craze lines don't show up on X-rays, they can often be detected by feel (using a small instrument called an explorer), by having you close down on a "bite stick," or by using special dye stains or high-magnification instruments.
Vertical Cracks

This type of crack often starts at the chewing surface and extends toward the roots — but may it also begin in the root and continue toward the crown. Either way, it doesn't completely separate the tooth into two parts. Depending on the extent of the fracture, you may feel only minor discomfort that occurs in response to temperature changes (with hot or cold beverages, for example); or, it may produce sharp pain when you chew. In any case, you shouldn't ignore the symptoms, because cracked teeth require dental treatment quickly to keep them from progressing further. If the cracks continue to progress, tooth extraction may become necessary.
Deep Fractures or Split Teeth
When serious fractures occur, you'll know it: The distinct parts of the tooth can be separated from each other, and tooth's pulp is often inflamed and painful. This condition requires immediate treatment, and it's rarely possible to save the affected tooth.
Treatment for Cracked Teeth
What treatment is best for a cracked tooth depends on the extent and the severity of the damage. If a small crack is detected early enough, it's often possible to seal the fissure with restorative materials. For larger cracks that involve the pulp of the tooth, root canal treatment is generally required. Afterward, the visible structure of the tooth may be restored with a crown or "cap." Sometimes, additional procedures may be recommended to try and save the tooth. In the most severe cases, however, the tooth will need to be extracted.
The preferred treatment for cracked teeth is — you guessed it — prevention! Wearing proper protective equipment (including a custom-fitted mouthguard) when playing sports, and staying alert to dangerous situations (like distracted or impaired driving) can help keep you safe. So can regular dental checkups, where your teeth are examined carefully for early signs of a problem. However, if you experience any symptoms that could indicate a cracked tooth, don't wait: The sooner it's treated, the better the chance that we can save it.
Related Articles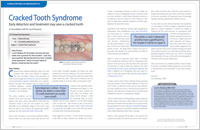 Cracked Tooth Syndrome Teeth are fracturing today in record numbers. Causes include longer life spans (older, brittle teeth tend to crack more) and higher stress levels, which may lead to increased teeth clenching and grinding. The earlier a crack is detected and the more superficial it is, the simpler it will be to repair it... Read Article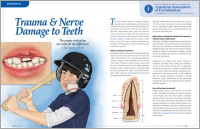 Trauma & Nerve Damage to Teeth Answers to treatment of specific dental injuries — not only do injuries and their treatment vary, but they are also influenced by the type of tooth, whether baby or adult teeth, and their stage of growth and development. From chipped to fractured teeth, modern dentistry's answers are here and now... Read Article
West Hartford
(860) 231-0565