Loose Teeth & Bite Problems
Online Dental Education Library
Dr. Goldman and his staff strive to improve the overall health of our patients by focusing on preventing, diagnosing and treating conditions associated with your teeth and gums. Please use our dental library to learn more about dental problems and treatments available. If you have questions, please contact us.
Oral and maxillofacial surgeons are unique among dentists in that they all have completed an additional four years of hospital-based training alongside medical residents, and can administer all types of anesthesia. If you have a diseased or impacted tooth that needs to come out, implants to be placed, a suspicious lesion that needs a biopsy, or any other oral health condition requiring surgical diagnosis or treatment, we can help. Learn more about Oral Surgery.
Snoring & Sleep Apnea
Chronic loud snoring is a common symptom of Obstructive Sleep Apnea (OSA), which occurs when the upper airway is blocked to the point of causing significant airflow disruption, or even no airflow whatsoever for 10 seconds or more. This can be a dangerous situation. Learn more about Snoring & Sleep Apnea.
Tooth Extractions
There are times when it is in your best interest to have a tooth extracted (removed). This could be the case for a variety of reasons, including: damage or trauma to the tooth; an impacted wisdom tooth that may cause trouble for you later on; or overcrowding. Learn more about Tooth Extractions.
Implant Dentistry
If you are missing one or more teeth, dental implants offer the comfort and security of a permanent replacement that looks and functions just like your natural teeth. Dental implants also help preserve the tooth-supporting bone in your jaw that deteriorates when even one tooth is lost.
Oral Diagnosis & Biopsies
When it comes to detecting certain oral or systemic (whole-body) diseases, a thorough dental exam may be your first line of defense. Learn more about Oral Diagnosis & Biopsies.
Bone Grafting
Bone grafting, a minor in-office surgical procedure, is commonly used in dentistry to correct deficiencies in bone quality and to build support for teeth or dental implants. Learn more about Bone Grafting.
Sedation Dentistry & Anesthesia
We want you to have the most comfortable dental treatment experience possible. That's why we offer sedation, to help you relax, and/or anesthesia, to block your sensations of pain. Learn more about Sedation Dentistry.
Facial Trauma & Reconstructive Surgery
Oral and maxillofacial surgeons are capable of treating the full scope of injuries to the structures of the face, mouth or jaws — including the teeth, the bones of the jaws and face, and the tissue of the skin and gums. We can also treat congenital defects such as cleft palate.
TMJ Disorders
If you have chronic pain in or around your jaw, or find the movement of your jaw is restricted, you may be suffering from a temporomandibular joint (TMJ) disorder. Learn more about TMJ Disorders.
Treating Dental Emergencies
We can treat a variety of traumatic dental injuries, including teeth that have been moved or knocked out entirely. Please call our office for assistance, or click here to learn more about what to do in a dental emergency.
When you are a child, your first loose tooth can be cause for celebration; when you are an adult, it definitely is not. Biting and chewing with a tooth that is not securely attached in its socket can be difficult or even painful — and any tooth that becomes loose is at risk of needing to be removed or, at worst, falling out. It's often possible to prevent that from happening, but quick action is required.
Causes
The most common reason for tooth looseness is periodontal disease — a bacterial infection of the gum and/or bone tissues that surround and support your teeth. The infection results from bacterial plaque that sits on your teeth in the absence of effective oral hygiene. Over time, periodontal disease will cause gum tissue to detach from the teeth as plaque and tartar formation increases and tooth-supporting bone is lost. As more bone is lost, teeth gradually become loose and are unable to withstand normal biting forces. If severe periodontal disease remains untreated, loose teeth will eventually fall out.
Another common contributor to the loosening of teeth is a clenching or grinding habit that generates too much biting force. This force can stretch the periodontal ligaments that join the teeth to the supporting bone, making your teeth looser. These habits can accelerate bone loss and also cause jaw pain and excessive tooth wear.
Treatment
Just as the causes of loose teeth can be biological (disease) or mechanical (too much force) — or both — so, too, are the treatments. Let's first take a look at the biological approach.
To control gum disease, a dental professional must thoroughly clean the teeth of plaque and harder deposits (tartar or calculus) in which bacteria thrive; this includes the tooth-root surfaces beneath the gum line. At the same visit, you will be instructed on effective oral hygiene techniques and products to use at home. Often this type of deep cleaning, combined with improved oral hygiene, will reduce inflammation and heal the gums enough to cause some tightening of the teeth.
The mechanical approach involves modifying the forces that are applied to the teeth. This can be achieved in a number of ways. For example, an occlusal (bite) adjustment can be performed by carefully reshaping minute amounts of tooth surface enamel. This changes the way upper and lower teeth contact each other, redirecting and lessening the force. Replacing broken fillings and restoring worn teeth is also sometimes needed to create a more balanced bite, even when teeth are not loose.
It is also possible to reduce stresses on teeth by temporarily or permanently splinting them together like fence pickets so that any biting force is distributed among groups of teeth rather than individual loosened teeth. The splint is a very small metal bracket bonded to the backs of or tops of the teeth.
If clenching or grinding habits are a problem, a custom-made bite guard (also called an occlusal splint) can be worn when needed. Placed in the mouth at night or in times of stress, it can protect the teeth from the consequences of too much biting force. This can also be helpful in preventing excessive tooth wear, and sometimes in relieving jaw pain.
Loose teeth can be successfully treated with both biological and mechanical techniques. A thorough examination will be needed to determine the best approach. So if you are experiencing tooth looseness, don't wait — the sooner this problem is addressed, the more likely you are to keep your natural teeth.
Related Articles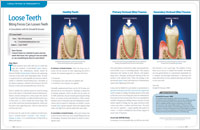 Loose Teeth Tooth looseness is a complex but treatable problem. More often than not, it is a fairly late sign of periodontal (gum) disease. If you are experiencing this, it's important to act fast to try and save your teeth... Read Article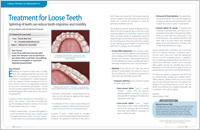 Treatment for Loose Teeth Sometimes very loose teeth can be splinted or joined together like pickets in a fence so that any biting force is distributed among groups of teeth rather than individual loosened teeth. However, before deciding upon a treatment, the long-term prognosis of the teeth must be considered... Read Article
West Hartford
(860) 231-0565