Online Dental Education Library
Dr. Goldman and his staff strive to improve the overall health of our patients by focusing on preventing, diagnosing and treating conditions associated with your teeth and gums. Please use our dental library to learn more about dental problems and treatments available. If you have questions, please contact us.
Oral and maxillofacial surgeons are unique among dentists in that they all have completed an additional four years of hospital-based training alongside medical residents, and can administer all types of anesthesia. If you have a diseased or impacted tooth that needs to come out, implants to be placed, a suspicious lesion that needs a biopsy, or any other oral health condition requiring surgical diagnosis or treatment, we can help. Learn more about Oral Surgery.
Snoring & Sleep Apnea
Chronic loud snoring is a common symptom of Obstructive Sleep Apnea (OSA), which occurs when the upper airway is blocked to the point of causing significant airflow disruption, or even no airflow whatsoever for 10 seconds or more. This can be a dangerous situation. Learn more about Snoring & Sleep Apnea.
Tooth Extractions
There are times when it is in your best interest to have a tooth extracted (removed). This could be the case for a variety of reasons, including: damage or trauma to the tooth; an impacted wisdom tooth that may cause trouble for you later on; or overcrowding. Learn more about Tooth Extractions.
Implant Dentistry
If you are missing one or more teeth, dental implants offer the comfort and security of a permanent replacement that looks and functions just like your natural teeth. Dental implants also help preserve the tooth-supporting bone in your jaw that deteriorates when even one tooth is lost.
Oral Diagnosis & Biopsies
When it comes to detecting certain oral or systemic (whole-body) diseases, a thorough dental exam may be your first line of defense. Learn more about Oral Diagnosis & Biopsies.
Bone Grafting
Bone grafting, a minor in-office surgical procedure, is commonly used in dentistry to correct deficiencies in bone quality and to build support for teeth or dental implants. Learn more about Bone Grafting.
Sedation Dentistry & Anesthesia
We want you to have the most comfortable dental treatment experience possible. That's why we offer sedation, to help you relax, and/or anesthesia, to block your sensations of pain. Learn more about Sedation Dentistry.
Facial Trauma & Reconstructive Surgery
Oral and maxillofacial surgeons are capable of treating the full scope of injuries to the structures of the face, mouth or jaws — including the teeth, the bones of the jaws and face, and the tissue of the skin and gums. We can also treat congenital defects such as cleft palate.
TMJ Disorders
If you have chronic pain in or around your jaw, or find the movement of your jaw is restricted, you may be suffering from a temporomandibular joint (TMJ) disorder. Learn more about TMJ Disorders.
Treating Dental Emergencies
We can treat a variety of traumatic dental injuries, including teeth that have been moved or knocked out entirely. Please call our office for assistance, or click here to learn more about what to do in a dental emergency.
Numerous studies have shown that using an appropriate mouthrinse, in conjunction with regular brushing and flossing, is an easy and effective way for you to improve your overall oral health. As part of a regular program of oral hygiene, mouthrinses (which are sometimes called mouthwashes) can be effective at reducing plaque, controlling bad breath, and helping to prevent tooth decay and gum disease. There are a myriad of mouthrinses lining the drugstore shelves, and they are available in both prescription and over-the-counter (OTC) formulations. Which one is best for you? That depends on what benefit you expect to get from using it.
It's important to keep in mind that many off-the-shelf mouthrinses are primarily cosmetic: That means, they may (temporarily) make your mouth taste or smell good, but they don't offer any lasting benefit to your oral health. There's nothing wrong with that — as long as you weren't expecting anything more. But if you've been told that you are at risk for tooth decay or gum disease, you'll want to use a mouthrinse that has proven clinical benefits.
Therapeutic Mouthrinses
Mouthrinses that offer oral-health benefits are considered therapeutic. These fall into two general categories: anti-cariogenic rinses, which are designed to prevent tooth decay (and thus dental caries, or "cavities"); and anti-bacterial rinses, which help control the buildup of plaque bacteria in your mouth. Some products may even offer both types of protection.
To help prevent tooth decay, anti-cariogenic mouthrinses use an ingredient you're probably already familiar with: fluoride. This is often in the form of a .05% sodium fluoride solution. Because it's a liquid, the rinse can get all around your teeth — even into spaces the smallest brush can't reach.
Fluoride has been consistently proven to strengthen tooth enamel, which protects against decay; it can even reduce tiny lesions on teeth where a cavity may form. There's hardly anyone who couldn't use some extra help in the fight against cavities — but if you've been told you may be at a higher risk for tooth decay, or if you have difficulty brushing and flossing, then an anti-cariogenic rinse is a good choice for you.
Anti-bacterial mouthrinses generally contain ingredients (like triclosan, essential oils, or the prescription medication chlorhexidine) that help to control the microorganisms found in plaque. Plaque, a sticky, bacteria-laden biofilm, occurs not only on the surfaces of the teeth, but also in other parts of the mouth. Rinsing with an anti-bacterial solution has been shown to provide a greater reduction in plaque than brushing and flossing alone. As tools in the fight against gum disease (gingivitis) and tooth decay, anti-bacterial mouthrinses may be a good step toward improving your oral hygiene.
Choosing A Mouthrinse
If you're shopping for an over-the-counter therapeutic mouthrinse, look for the ADA (American Dental Association) seal on the label; it means that the product has been evaluated and proven effective by an independent panel of dental experts. If a mouthrinse has been prescribed for you, you should carefully follow the usage instructions. (Note, however, that due to labeling rules, prescription mouthrinses may not be eligible for the ADA seal.) Mouthrinses can benefit most people, but they generally aren't recommended for children under the age of six, who may swallow them.
Related Articles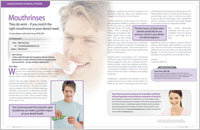 Mouthrinses Walk into any drugstore and you'll see a staggering number of mouthrinses on the shelves. Which one is right for you? It all depends on what you hope to accomplish by using it... Read Article
West Hartford
(860) 231-0565