Online Dental Education Library
Dr. Goldman and his staff strive to improve the overall health of our patients by focusing on preventing, diagnosing and treating conditions associated with your teeth and gums. Please use our dental library to learn more about dental problems and treatments available. If you have questions, please contact us.
Oral and maxillofacial surgeons are unique among dentists in that they all have completed an additional four years of hospital-based training alongside medical residents, and can administer all types of anesthesia. If you have a diseased or impacted tooth that needs to come out, implants to be placed, a suspicious lesion that needs a biopsy, or any other oral health condition requiring surgical diagnosis or treatment, we can help. Learn more about Oral Surgery.
Snoring & Sleep Apnea
Chronic loud snoring is a common symptom of Obstructive Sleep Apnea (OSA), which occurs when the upper airway is blocked to the point of causing significant airflow disruption, or even no airflow whatsoever for 10 seconds or more. This can be a dangerous situation. Learn more about Snoring & Sleep Apnea.
Tooth Extractions
There are times when it is in your best interest to have a tooth extracted (removed). This could be the case for a variety of reasons, including: damage or trauma to the tooth; an impacted wisdom tooth that may cause trouble for you later on; or overcrowding. Learn more about Tooth Extractions.
Implant Dentistry
If you are missing one or more teeth, dental implants offer the comfort and security of a permanent replacement that looks and functions just like your natural teeth. Dental implants also help preserve the tooth-supporting bone in your jaw that deteriorates when even one tooth is lost.
Oral Diagnosis & Biopsies
When it comes to detecting certain oral or systemic (whole-body) diseases, a thorough dental exam may be your first line of defense. Learn more about Oral Diagnosis & Biopsies.
Bone Grafting
Bone grafting, a minor in-office surgical procedure, is commonly used in dentistry to correct deficiencies in bone quality and to build support for teeth or dental implants. Learn more about Bone Grafting.
Sedation Dentistry & Anesthesia
We want you to have the most comfortable dental treatment experience possible. That's why we offer sedation, to help you relax, and/or anesthesia, to block your sensations of pain. Learn more about Sedation Dentistry.
Facial Trauma & Reconstructive Surgery
Oral and maxillofacial surgeons are capable of treating the full scope of injuries to the structures of the face, mouth or jaws — including the teeth, the bones of the jaws and face, and the tissue of the skin and gums. We can also treat congenital defects such as cleft palate.
TMJ Disorders
If you have chronic pain in or around your jaw, or find the movement of your jaw is restricted, you may be suffering from a temporomandibular joint (TMJ) disorder. Learn more about TMJ Disorders.
Treating Dental Emergencies
We can treat a variety of traumatic dental injuries, including teeth that have been moved or knocked out entirely. Please call our office for assistance, or click here to learn more about what to do in a dental emergency.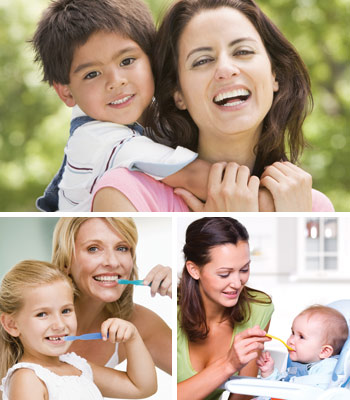 Teeth can last a lifetime if you take care of them right — and the best time to start is just as soon as they begin appearing. By establishing good oral hygiene routines for your children right from the start, you'll give them the best chance of keeping their teeth healthy — forever.
Tooth decay, the major cause of dental trouble that can eventually lead to tooth loss, is actually an infectious disease caused by bacteria. If it takes hold, it can form a cavity in the enamel and then progress deeper into the tooth — causing discomfort, difficulty eating and speaking, and a need for fillings or root canal treatment. The good news is that tooth decay (also called caries) is completely preventable.
The primary route to good dental health is plaque removal. Plaque is the sticky, whitish film that builds up on teeth in the absence of effective oral hygiene. Decay-causing bacteria thrive in plaque, where they break down any sugar that lingers in the mouth. In the process, they produce acid byproducts that erode teeth. This is how a cavity begins. What are the most effective techniques for plaque removal and decay prevention? That depends on the age of your child.
Babies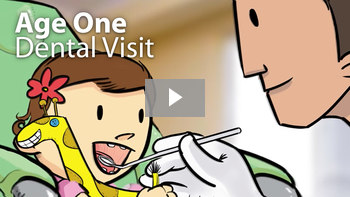 Babies can develop a form of tooth decay known as early childhood caries. This occurs when they are allowed to go to sleep with a bottle that's filled with anything but water. The sugars in formula, milk (even breast milk) and juice can pool around the teeth and feed decay-causing bacteria. When it comes to bedtime soothing, a pacifier or bottle filled with water is safer for developing teeth — that is, until about age 3. At that point, sucking habits should be gently discouraged to prevent orthodontic problems from developing later on.
Brush your baby's first teeth gently with a small, soft-bristled toothbrush, using just a thin smear of fluoride toothpaste, at least once a day at bedtime. Before a tooth is fully erupted, you can use a water-soaked gauze pad to clean around the tooth and gums.
Make sure your child has his or her first dental visit by age 1. There, you can learn proper hygiene techniques; have your youngster examined for signs of early decay; and get a recommendation for fluoride supplements if needed.
Children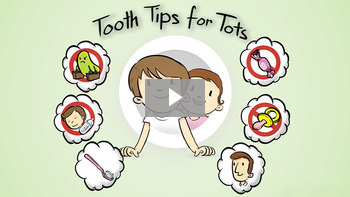 Starting at age 3, you can begin teaching your child to brush with a children's toothbrush and no more than a pea-sized amount of fluoride toothpaste. But remember, children will need help with this important task until about age 6, when they have the fine motor skills to do an effective job themselves.
It's also extremely important to start encouraging healthy dietary habits at this time. Your child will have less plaque buildup and decay if you place limits on soda and sugary snack consumption. As a parent, you can model this behavior to instill it in your child. After all, monkey see, monkey do! Any sugary treats that are allowed should come at mealtimes, not in between. This will ensure your child is not creating favorable conditions for oral bacteria to grow around the clock.
At your child's regular, twice-yearly dental checkups and cleanings, topical fluoride can be applied to strengthen tooth enamel and make it more resistant to erosion and decay. If necessary, dental sealants can be applied to the back teeth (molars) to prevent food particles and bacteria from building up in the tiny grooves where a toothbrush can't reach (View Dental Sealant Video).
Teens
At this point, your children have the primary responsibility for maintaining their day-to-day dental health — but you can continue to help them make good dietary and behavioral choices. These include drinking plenty of water and avoiding soda, sports drinks and energy drinks, all of which are highly acidic; avoiding tobacco and alcohol; and continuing to visit the dental office regularly for cleanings and exams. This is particularly important if your teen wears braces, which can make it more difficult to keep teeth clean.
Remember, it's never too soon to help your child develop good oral hygiene habits that will last a lifetime.
Related Articles
West Hartford
(860) 231-0565