Online Dental Education Library
Dr. Goldman and his staff strive to improve the overall health of our patients by focusing on preventing, diagnosing and treating conditions associated with your teeth and gums. Please use our dental library to learn more about dental problems and treatments available. If you have questions, please contact us.
Oral and maxillofacial surgeons are unique among dentists in that they all have completed an additional four years of hospital-based training alongside medical residents, and can administer all types of anesthesia. If you have a diseased or impacted tooth that needs to come out, implants to be placed, a suspicious lesion that needs a biopsy, or any other oral health condition requiring surgical diagnosis or treatment, we can help. Learn more about Oral Surgery.
Snoring & Sleep Apnea
Chronic loud snoring is a common symptom of Obstructive Sleep Apnea (OSA), which occurs when the upper airway is blocked to the point of causing significant airflow disruption, or even no airflow whatsoever for 10 seconds or more. This can be a dangerous situation. Learn more about Snoring & Sleep Apnea.
Tooth Extractions
There are times when it is in your best interest to have a tooth extracted (removed). This could be the case for a variety of reasons, including: damage or trauma to the tooth; an impacted wisdom tooth that may cause trouble for you later on; or overcrowding. Learn more about Tooth Extractions.
Implant Dentistry
If you are missing one or more teeth, dental implants offer the comfort and security of a permanent replacement that looks and functions just like your natural teeth. Dental implants also help preserve the tooth-supporting bone in your jaw that deteriorates when even one tooth is lost.
Oral Diagnosis & Biopsies
When it comes to detecting certain oral or systemic (whole-body) diseases, a thorough dental exam may be your first line of defense. Learn more about Oral Diagnosis & Biopsies.
Bone Grafting
Bone grafting, a minor in-office surgical procedure, is commonly used in dentistry to correct deficiencies in bone quality and to build support for teeth or dental implants. Learn more about Bone Grafting.
Sedation Dentistry & Anesthesia
We want you to have the most comfortable dental treatment experience possible. That's why we offer sedation, to help you relax, and/or anesthesia, to block your sensations of pain. Learn more about Sedation Dentistry.
Facial Trauma & Reconstructive Surgery
Oral and maxillofacial surgeons are capable of treating the full scope of injuries to the structures of the face, mouth or jaws — including the teeth, the bones of the jaws and face, and the tissue of the skin and gums. We can also treat congenital defects such as cleft palate.
TMJ Disorders
If you have chronic pain in or around your jaw, or find the movement of your jaw is restricted, you may be suffering from a temporomandibular joint (TMJ) disorder. Learn more about TMJ Disorders.
Treating Dental Emergencies
We can treat a variety of traumatic dental injuries, including teeth that have been moved or knocked out entirely. Please call our office for assistance, or click here to learn more about what to do in a dental emergency.
When advanced gum disease (periodontitis) develops, your teeth are in danger: At this stage, the ligaments and bone tissue that surround them are being destroyed, and you could even begin losing teeth! If the disease can't be controlled by non-surgical treatments like cleaning and scaling, then periodontal flap surgery may be your best treatment option.
Flap surgery is today's leading method for treating and repairing periodontal pockets. What are these "pockets?" They are areas below the gum line where gum tissue has detached from the teeth, resulting in an uncleansable space where harmful bacteria can proliferate. These bacteria cause inflammation of the tissues, resulting in sensitivity, bleeding, and pain. Left untreated, they can cause a host of problems including gum disease, loss of the tooth-supporting bone structure, and possibly even systemic (whole-body) problems.
When periodontal pockets develop, the first step in treating them is usually via cleaning and scaling (also referred to as root debridement) with a manual or ultrasonic instrument. If this isn't effective, then periodontal surgery is considered. Flap surgery isn't a cure for periodontal disease — but it helps create an environment that makes it easier to maintain your periodontal health. And even if you're prone to gum disease, proper professional treatment and regular care at home can help keep your teeth healthy for as long as possible.
The Goals of Flap Surgery
One major objective of flap surgery is to eliminate or reduce the pocket itself. To access it, a flap-like incision is made in the gum tissue. This allows diseased tissue to be removed from inside the pocket, and provides access to the teeth's root surfaces for a thorough cleaning, which helps to eliminate harmful plaque and calculus (tartar). Afterward, the "flap" is closed, sealing the area. This begins the healing process, which takes place rapidly.
Another goal is the regeneration of periodontal ligament and bone tissue which may have been lost to the disease. A variety of techniques may be used to accomplish this, including high-tech methods of bone grafting and chemicals referred to as growth factors. These approaches help restore the gums to their normal form and function, and promote the healthy and secure anchoring of teeth.
The Flap Surgery Procedure
Flap surgery is typically done under local anesthesia, sometimes accompanied by oral anti-anxiety medications; alternatively, it may be performed under intravenous conscious sedation. After anesthesia has taken effect, a small incision is made to separate the gums from the teeth. The outer gum tissue is gently folded back to give access to the roots and the supporting ligament and bone tissue.
Next, the inflamed gum tissue can be removed, and the tooth roots can be cleaned; if needed, the area may also be treated with antibiotics or other medications. Bone defects can be repaired with grafting material, and proper regeneration of the periodontal ligament can be encouraged by physical (barrier membranes) and chemical (growth factors) methods. Finally, the incision is closed and the procedure is completed.
Performed by an experienced hand, state-of-the-art flap surgery has an excellent track record and offers well-established benefits. It's often the treatment of choice for relieving periodontal disease and helping to maintain your oral health — and preserve your teeth.
Related Articles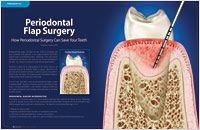 Periodontal Flap Surgery Most surgical patients are surprised by how comfortable the experience of flap surgery is and how painless it is afterward. Today's highly sophisticated and meticulous techniques allow the periodontal surgeon to reconstitute, regenerate, and reconstruct lost and destroyed tissues. Find out how periodontal surgery can prolong the life of your teeth... Read Article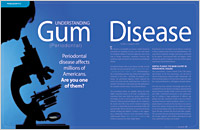 Understanding Gum (Periodontal) Disease Have your gums ever bled when you brushed or flossed? This most commonly overlooked simple sign may be the start of a silent progressive disease leading to tooth loss. Learn what you can do to prevent this problem and keep your teeth for life... Read Article
West Hartford
(860) 231-0565