Online Dental Education Library
Dr. Goldman and his staff strive to improve the overall health of our patients by focusing on preventing, diagnosing and treating conditions associated with your teeth and gums. Please use our dental library to learn more about dental problems and treatments available. If you have questions, please contact us.
Oral and maxillofacial surgeons are unique among dentists in that they all have completed an additional four years of hospital-based training alongside medical residents, and can administer all types of anesthesia. If you have a diseased or impacted tooth that needs to come out, implants to be placed, a suspicious lesion that needs a biopsy, or any other oral health condition requiring surgical diagnosis or treatment, we can help. Learn more about Oral Surgery.
Snoring & Sleep Apnea
Chronic loud snoring is a common symptom of Obstructive Sleep Apnea (OSA), which occurs when the upper airway is blocked to the point of causing significant airflow disruption, or even no airflow whatsoever for 10 seconds or more. This can be a dangerous situation. Learn more about Snoring & Sleep Apnea.
Tooth Extractions
There are times when it is in your best interest to have a tooth extracted (removed). This could be the case for a variety of reasons, including: damage or trauma to the tooth; an impacted wisdom tooth that may cause trouble for you later on; or overcrowding. Learn more about Tooth Extractions.
Implant Dentistry
If you are missing one or more teeth, dental implants offer the comfort and security of a permanent replacement that looks and functions just like your natural teeth. Dental implants also help preserve the tooth-supporting bone in your jaw that deteriorates when even one tooth is lost.
Oral Diagnosis & Biopsies
When it comes to detecting certain oral or systemic (whole-body) diseases, a thorough dental exam may be your first line of defense. Learn more about Oral Diagnosis & Biopsies.
Bone Grafting
Bone grafting, a minor in-office surgical procedure, is commonly used in dentistry to correct deficiencies in bone quality and to build support for teeth or dental implants. Learn more about Bone Grafting.
Sedation Dentistry & Anesthesia
We want you to have the most comfortable dental treatment experience possible. That's why we offer sedation, to help you relax, and/or anesthesia, to block your sensations of pain. Learn more about Sedation Dentistry.
Facial Trauma & Reconstructive Surgery
Oral and maxillofacial surgeons are capable of treating the full scope of injuries to the structures of the face, mouth or jaws — including the teeth, the bones of the jaws and face, and the tissue of the skin and gums. We can also treat congenital defects such as cleft palate.
TMJ Disorders
If you have chronic pain in or around your jaw, or find the movement of your jaw is restricted, you may be suffering from a temporomandibular joint (TMJ) disorder. Learn more about TMJ Disorders.
Treating Dental Emergencies
We can treat a variety of traumatic dental injuries, including teeth that have been moved or knocked out entirely. Please call our office for assistance, or click here to learn more about what to do in a dental emergency.
Your child's little baby teeth have some big responsibilities. Until the adolescent years, they will not only help your youngster bite and chew (i.e., get proper nutrition) and speak correctly but also help guide the permanent teeth underneath them into proper position. In fact, a major function of baby teeth is to hold space for the adult teeth that will eventually push them out.
At least that's how it's supposed to work; sometimes, however, injury or disease can cause a baby tooth to be lost prematurely. When that happens, the permanent teeth that are coming in on either side can actually drift into the space that was reserved for another tooth. This can cause teeth to erupt out of position or to be blocked entirely, and it may result in crowded or crooked teeth.
Fortunately, if your child loses a tooth prematurely, there's a dental appliance that can be used to hold the space open for the permanent tooth that is meant to fill it. The device is, not surprisingly, called a "space maintainer" or a "space maintenance appliance." Made of metal and/or plastic, space maintainers can be fixed (cemented) or removable, but either way their purpose is the same: to help your child develop the best bite possible and hopefully avoid the need for braces later on.
Fixed appliances are cemented onto adjacent teeth. They are made in many different designs: One consists of a band that goes around a tooth and then a wire loop that extends out from the band to hold the space; another features a loop attached to a stainless steel crown, which goes over a nearby tooth. In either case, the loop extends just to the point where it touches the next tooth. Fixed space maintainers are often preferred with younger children, because they are less easy to fidget with, break, or misplace than appliances that can be removed.
Removable appliances look like the type of retainer that is worn at the end of orthodontic treatment. It can have a false tooth on it, which is particularly useful when the lost tooth was visible in the mouth. Older children can usually handle the responsibility of wearing this appliance and caring for it properly.
Whether fixed or removable, your child's space maintainer will be custom-made after we take impressions of his or her mouth. A child will wear a space maintainer until x-rays reveal that the tooth underneath is ready to erupt naturally. It is very important that anyone wearing a space maintainer keep up good oral hygiene at home and have regular professional dental cleanings.
Space maintainers are also useful when one or more permanent teeth are congenitally missing — in other words, they have never existed at all. In cases like this, which are not uncommon, permanent dental implant teeth are often recommended for adolescents or adults to replace a tooth they weren't born with. But timing is very important with dental implants — they can't be placed in a growing child. Therefore, it is very important to use a space maintainer with a false tooth on it until jaw growth is complete and an implant can be appropriately placed. It's a simple, non-invasive way we can avoid a malocclusion (bad bite) with some timely intervention.
Related Articles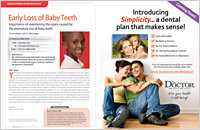 Early Loss of Baby Teeth If baby teeth are lost prematurely, other teeth can shift into the new space so that there is not enough room left for the permanent teeth to come in correctly; crowding or crooked teeth can result. Fortunately, a special oral appliance called a "space maintainer" has been designed to solve this problem... Read Article
West Hartford
(860) 231-0565