Online Dental Education Library
Dr. Goldman and his staff strive to improve the overall health of our patients by focusing on preventing, diagnosing and treating conditions associated with your teeth and gums. Please use our dental library to learn more about dental problems and treatments available. If you have questions, please contact us.
Oral and maxillofacial surgeons are unique among dentists in that they all have completed an additional four years of hospital-based training alongside medical residents, and can administer all types of anesthesia. If you have a diseased or impacted tooth that needs to come out, implants to be placed, a suspicious lesion that needs a biopsy, or any other oral health condition requiring surgical diagnosis or treatment, we can help. Learn more about Oral Surgery.
Snoring & Sleep Apnea
Chronic loud snoring is a common symptom of Obstructive Sleep Apnea (OSA), which occurs when the upper airway is blocked to the point of causing significant airflow disruption, or even no airflow whatsoever for 10 seconds or more. This can be a dangerous situation. Learn more about Snoring & Sleep Apnea.
Tooth Extractions
There are times when it is in your best interest to have a tooth extracted (removed). This could be the case for a variety of reasons, including: damage or trauma to the tooth; an impacted wisdom tooth that may cause trouble for you later on; or overcrowding. Learn more about Tooth Extractions.
Implant Dentistry
If you are missing one or more teeth, dental implants offer the comfort and security of a permanent replacement that looks and functions just like your natural teeth. Dental implants also help preserve the tooth-supporting bone in your jaw that deteriorates when even one tooth is lost.
Oral Diagnosis & Biopsies
When it comes to detecting certain oral or systemic (whole-body) diseases, a thorough dental exam may be your first line of defense. Learn more about Oral Diagnosis & Biopsies.
Bone Grafting
Bone grafting, a minor in-office surgical procedure, is commonly used in dentistry to correct deficiencies in bone quality and to build support for teeth or dental implants. Learn more about Bone Grafting.
Sedation Dentistry & Anesthesia
We want you to have the most comfortable dental treatment experience possible. That's why we offer sedation, to help you relax, and/or anesthesia, to block your sensations of pain. Learn more about Sedation Dentistry.
Facial Trauma & Reconstructive Surgery
Oral and maxillofacial surgeons are capable of treating the full scope of injuries to the structures of the face, mouth or jaws — including the teeth, the bones of the jaws and face, and the tissue of the skin and gums. We can also treat congenital defects such as cleft palate.
TMJ Disorders
If you have chronic pain in or around your jaw, or find the movement of your jaw is restricted, you may be suffering from a temporomandibular joint (TMJ) disorder. Learn more about TMJ Disorders.
Treating Dental Emergencies
We can treat a variety of traumatic dental injuries, including teeth that have been moved or knocked out entirely. Please call our office for assistance, or click here to learn more about what to do in a dental emergency.
If you experience ongoing pain in the area near your ear, your jaw or the muscles on the side of your face, possibly accompanied by a clicking or popping sound or restricted jaw movement, you may be suffering from TMD — an abbreviation for Temporomandibular disorders. Sometimes people incorrectly use the term TMJ to refer to these problems, when in fact TMJ is the abbreviation for the temporomandibular joint — or jaw joint — itself. So while you definitely have a TMJ (two of them in fact), you may or may not have TMD.
TMD, then, describes a group of conditions characterized by pain and dysfunction of the TMJ and/or the muscles surrounding it. It's not always so easy to figure out exactly what's causing these symptoms, but the good news is that most TMD cases resolve themselves with the help of conservative remedies that you can try at home. In fact, it's important to exhaust all such reversible remedies before moving on to anything irreversible, such as bridgework or surgery.
The two TMJs that connect your lower jaw, the mandible, to the temporal bone of the skull on either side, are actually very complex joints that allow movement in three dimensions. The lower jaw and temporal bone fit together as a ball and socket, with a cushioning disk in between. Large pairs of muscles in the cheeks and temples move the lower jaw. Any of these parts — the disk, the muscles or the joint itself — can become the source of a TMD problem. If you are in pain, or are having difficulty opening or closing your jaw, a thorough examination can help pinpoint the problem area; then an appropriate remedy can be recommended.
Causes of TMD
As with any other joint, the TMJ can be subject to orthopedic problems including inflammation, sore muscles, strained tendons and ligaments, and disk problems. TMD is also influenced by genes, gender (women appear to be more prone to it), and age. Physical and psychological stress can also be a factor. In some cases, jaw pain may be related to a more widespread, pain-inducing medical condition such as fibromyalgia ("fibro" – connective tissues; "myo" – muscle; "algia" – pain).
Signs and Symptoms of TMD
Clicking Sounds — Some people with TMD hear a clicking, popping or grating sound coming from the TMJ when opening or closing the mouth. This is usually caused by a shifting of the disk inside the joint. Someone standing next to you might even be able to hear it. Clicking by itself is actually not a significant symptom because one third of all people have jaw joints that click, studies show. However, if the clicking is accompanied by pain or limited jaw function — the jaw getting "stuck" in an open or closed position, for example — this would indicate TMD.
Muscle Pain — This can be felt in the cheeks (masseter muscles) and temples (temporalis muscles), where the two big pairs of jaw-closing muscles are located. If you feel soreness and stiffness upon waking up in the morning, it's often related to habits such as clenching and/or grinding the teeth at night. If you have this type of nocturnal habit, a custom-made nightguard should be very helpful in decreasing the force applied to your teeth, which will in turn allow your muscles to relax and relieve pressure on your jaw joints. Other self-care remedies are discussed below (please see Relieving the Pain).
Joint Pain — Pain that's actually coming from one or both jaw joints technically would be described as arthritis ("arth" – joint; "itis" – inflammation) of the TMJ. Radiographs (x-ray pictures) show that some people have arthritic-looking TMJs but no symptoms of pain or dysfunction; others have significant symptoms of pain and dysfunction but their joints look normal on radiographs. There is no cure for arthritis anywhere in the body, but medication can sometimes help relieve arthritic symptoms.
Relieving the Pain
Once you have been examined, a strategy for treating your condition and managing your pain can be developed. Sometimes a temporary change to a softer diet can reduce stress on the muscles and joints. Ice and/or moist heat can help relieve soreness and inflammation. Muscles in spasm can also be helped with gentle stretching exercises. Non-steroidal anti-inflammatory medications and muscle relaxants can also provide relief.
Other Treatment Options
Severe TMD cases may require more complex forms of treatment, which might include orthodontics, dental restorations like bridgework, or minor procedures inside the joint such as cortisone injections or lavage (flushing) of the joint. It's rare for major surgery ever to be necessary in a case of TMD. Again, it's important to try the wide range of conservative, reversible treatments available, and give them enough time to work as they almost always prove effective. The first step is an examination at the dental office. To learn more about available treatment options, view this Chart on TMD Therapy
Related Articles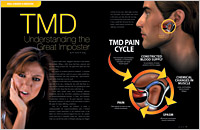 TMD – The Great Impostor This "chameleon" of dental disorders manifests in a variety of ways, including joint pain, sinusitus, ear pain, tooth and headaches. Dear Doctor magazine examines the causes of TMD, its signs and symptoms and what can be done to treat this common disorder... Read Article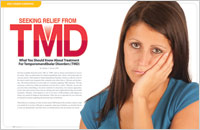 Seeking Relief From TMD TMD, or Temporomandibular Disorders, is an umbrella term for various painful conditions that affect the jaw joints. There are different treatment approaches to TMD problems, but not all are based on science. It's important to be up on the latest information and to be an educated consumer. In this comprehensive article, Dear Doctor magazine provides state-of-the-art information and guidance on what you should know, whom you should see, and what you should ask... Read Article
West Hartford
(860) 231-0565