Cosmetic & General Dentistry
Online Dental Education Library
Dr. Goldman and his staff strive to improve the overall health of our patients by focusing on preventing, diagnosing and treating conditions associated with your teeth and gums. Please use our dental library to learn more about dental problems and treatments available. If you have questions, please contact us.
Oral and maxillofacial surgeons are unique among dentists in that they all have completed an additional four years of hospital-based training alongside medical residents, and can administer all types of anesthesia. If you have a diseased or impacted tooth that needs to come out, implants to be placed, a suspicious lesion that needs a biopsy, or any other oral health condition requiring surgical diagnosis or treatment, we can help. Learn more about Oral Surgery.
Snoring & Sleep Apnea
Chronic loud snoring is a common symptom of Obstructive Sleep Apnea (OSA), which occurs when the upper airway is blocked to the point of causing significant airflow disruption, or even no airflow whatsoever for 10 seconds or more. This can be a dangerous situation. Learn more about Snoring & Sleep Apnea.
Tooth Extractions
There are times when it is in your best interest to have a tooth extracted (removed). This could be the case for a variety of reasons, including: damage or trauma to the tooth; an impacted wisdom tooth that may cause trouble for you later on; or overcrowding. Learn more about Tooth Extractions.
Implant Dentistry
If you are missing one or more teeth, dental implants offer the comfort and security of a permanent replacement that looks and functions just like your natural teeth. Dental implants also help preserve the tooth-supporting bone in your jaw that deteriorates when even one tooth is lost.
Oral Diagnosis & Biopsies
When it comes to detecting certain oral or systemic (whole-body) diseases, a thorough dental exam may be your first line of defense. Learn more about Oral Diagnosis & Biopsies.
Bone Grafting
Bone grafting, a minor in-office surgical procedure, is commonly used in dentistry to correct deficiencies in bone quality and to build support for teeth or dental implants. Learn more about Bone Grafting.
Sedation Dentistry & Anesthesia
We want you to have the most comfortable dental treatment experience possible. That's why we offer sedation, to help you relax, and/or anesthesia, to block your sensations of pain. Learn more about Sedation Dentistry.
Facial Trauma & Reconstructive Surgery
Oral and maxillofacial surgeons are capable of treating the full scope of injuries to the structures of the face, mouth or jaws — including the teeth, the bones of the jaws and face, and the tissue of the skin and gums. We can also treat congenital defects such as cleft palate.
TMJ Disorders
If you have chronic pain in or around your jaw, or find the movement of your jaw is restricted, you may be suffering from a temporomandibular joint (TMJ) disorder. Learn more about TMJ Disorders.
Treating Dental Emergencies
We can treat a variety of traumatic dental injuries, including teeth that have been moved or knocked out entirely. Please call our office for assistance, or click here to learn more about what to do in a dental emergency.
The practice of dentistry encompasses an amazing array of services and procedures, all with a common goal: to help you to preserve your natural teeth as long as possible, ensure your oral health, and keep you looking and feeling great throughout life.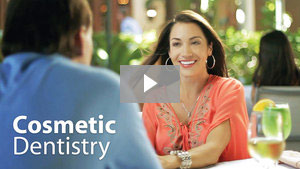 There's so much that can be done these days to improve the appearance of a person's smile — at any age. From powerful, professional whitening treatments to amazingly realistic porcelain veneers to state-of-the-art dental implants, there's a wide range of exciting possibilities.
The first step in any smile makeover is a thorough dental examination to make sure that your cosmetic problems really are just that, and not a sign of underlying dental disease. Once your health has been established, your smile can be cosmetically enhanced in a variety of ways.
Cosmetic & General Dentistry Procedures
Modern dentistry offers a wide range of services to make sure your teeth stay healthy, function well and look great. These procedures include:
Cleanings & Oral Exams, to keep your teeth and gums healthy, and catch early signs of dental disease
Cosmetic Bonding, to repair small chips or cracks
Crowns & Bridgework, to replace large amounts of lost tooth structure and/or missing teeth
Dental Implants, for the longest-lasting tooth replacement available today
Extractions, to remove unhealthy teeth that cannot be saved
Fillings, to restore decayed teeth
Inlays & Onlays, to fill teeth with larger cavities
Invisalign Clear Aligners, for highly discreet orthodontic treatment
Oral Cancer Screenings, to detect a dangerous disease that can be cured if caught early
Orthodontic Treatment, to move teeth into the right position
Porcelain Veneers, for repairing larger chips and cracks, and reshaping teeth
Removable Dentures, to help you smile again
Root Canal Treatment, to rescue diseased teeth
Sealants, to help prevent cavities
Teeth Whitening, to brighten a faded or discolored smile
TMD Treatment, for pain in the jaw area that can interfere with biting and chewing
Tooth-Colored Fillings, for a completely natural, healthy look
Tooth Decay Prevention, so you keep your natural teeth as long as possible
When to Visit the Dentist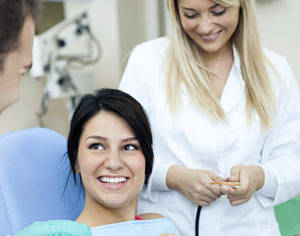 Many people only go to the dentist when something is wrong. That is truly a shame, because they are missing out on so many preventive services that can save discomfort — and expense — down the road. Regular dental visits are essential to make sure oral health problems — from tooth decay to oral cancer — are detected and treated in a timely manner. Some individuals may need to see the dentist more often than others to stay on top of problems like plaque buildup and gum disease, but everyone should go at least once per year.
Your regular dental visits will include a thorough oral exam to check the health of your teeth and gums; and oral cancer screening to spot any suspicious signs early; and a professional cleaning to remove stubborn deposits and make your teeth look and feel great. So don't miss out on the many benefits dentistry offers you and your family!
Your Smile Makeover
The most important job you have as a member of your own smile makeover team is to communicate exactly what you don't like about your smile and how you'd like it to be different. Before the first consultation, give some thought to the following questions:
What do you like or dislike about the color, size, shape and spacing of your teeth?
Are you pleased with how much your teeth show, both when you smile and when your lips are relaxed?
Do you want teeth that are perfectly aligned and a bright "Hollywood White," or would you prefer a more natural look with slight color, shape and shade variations?
Would you like more or less of your gums to show when you smile?
It is extremely helpful for you to bring in pictures you have collected — of smiles you like, smiles you don't like, and/or photos of the way your own smile used to look, if that's the result you're aiming for. Now is the time to get started on creating a smile that will make you feel as good as you look!
Related Articles
West Hartford
(860) 231-0565