Online Dental Education Library
Dr. Goldman and his staff strive to improve the overall health of our patients by focusing on preventing, diagnosing and treating conditions associated with your teeth and gums. Please use our dental library to learn more about dental problems and treatments available. If you have questions, please contact us.
Oral and maxillofacial surgeons are unique among dentists in that they all have completed an additional four years of hospital-based training alongside medical residents, and can administer all types of anesthesia. If you have a diseased or impacted tooth that needs to come out, implants to be placed, a suspicious lesion that needs a biopsy, or any other oral health condition requiring surgical diagnosis or treatment, we can help. Learn more about Oral Surgery.
Snoring & Sleep Apnea
Chronic loud snoring is a common symptom of Obstructive Sleep Apnea (OSA), which occurs when the upper airway is blocked to the point of causing significant airflow disruption, or even no airflow whatsoever for 10 seconds or more. This can be a dangerous situation. Learn more about Snoring & Sleep Apnea.
Tooth Extractions
There are times when it is in your best interest to have a tooth extracted (removed). This could be the case for a variety of reasons, including: damage or trauma to the tooth; an impacted wisdom tooth that may cause trouble for you later on; or overcrowding. Learn more about Tooth Extractions.
Implant Dentistry
If you are missing one or more teeth, dental implants offer the comfort and security of a permanent replacement that looks and functions just like your natural teeth. Dental implants also help preserve the tooth-supporting bone in your jaw that deteriorates when even one tooth is lost.
Oral Diagnosis & Biopsies
When it comes to detecting certain oral or systemic (whole-body) diseases, a thorough dental exam may be your first line of defense. Learn more about Oral Diagnosis & Biopsies.
Bone Grafting
Bone grafting, a minor in-office surgical procedure, is commonly used in dentistry to correct deficiencies in bone quality and to build support for teeth or dental implants. Learn more about Bone Grafting.
Sedation Dentistry & Anesthesia
We want you to have the most comfortable dental treatment experience possible. That's why we offer sedation, to help you relax, and/or anesthesia, to block your sensations of pain. Learn more about Sedation Dentistry.
Facial Trauma & Reconstructive Surgery
Oral and maxillofacial surgeons are capable of treating the full scope of injuries to the structures of the face, mouth or jaws — including the teeth, the bones of the jaws and face, and the tissue of the skin and gums. We can also treat congenital defects such as cleft palate.
TMJ Disorders
If you have chronic pain in or around your jaw, or find the movement of your jaw is restricted, you may be suffering from a temporomandibular joint (TMJ) disorder. Learn more about TMJ Disorders.
Treating Dental Emergencies
We can treat a variety of traumatic dental injuries, including teeth that have been moved or knocked out entirely. Please call our office for assistance, or click here to learn more about what to do in a dental emergency.
If you have lost an entire arch of teeth (top and/or bottom), or are soon to have your remaining teeth removed because they are too unhealthy to save, you may be able to replace them with fixed dentures supported by dental implants. Doctors and patients alike prefer fixed over removable dentures because they:
Look, feel and function just like natural teeth
Don't slip when you eat or talk
Prevent bone loss in the jaw
Last a lifetime
How It Works
Dental implants serve the same purpose as the roots of natural teeth: anchoring the replacement teeth to your jawbone. Just like natural tooth roots, they lie under the gum line and therefore are not visible in the mouth. Only the lifelike prosthetic teeth attached to them (the fixed denture) can be seen by you or anyone else. Because dental implants are made of titanium, a metal that has the unique ability to fuse to living bone, they are extremely stable and reliable. How many implants are needed? The number varies because each individual has unique conditions: Depending on the volume and density of the bone in your jaw, you will need as few as four implants or as many as six for your new teeth to function as well as a set of healthy, natural teeth.
What to Expect
The surgery to place dental implants that support a fixed denture is a simple, routine procedure carried out in an office setting, under local anesthesia in most cases. (If you need to have failing teeth removed, that will be done first, often the same day your implants are placed). After numbing the area, the appropriate number of implants will be placed in your jaw at precisely planned angles and positions to maximize support and avoid anatomical structures such as nerves and sinuses. Depending on how many implants are needed, the surgery can take anywhere from one to three hours. Most people who have dental implants placed find that any post-operative discomfort can be managed with over-the-counter anti-inflammatory medication such as ibuprofen or acetaminophen. Some don't even need to take that.
What happens immediately after surgery will depend on what's best to promote healing in your individual situation. Sometimes a set of temporary teeth can be attached immediately, so that you can leave the office with new teeth. A few months later, your permanent replacement teeth with be installed. In other cases, the implants will be left to heal for several months before any teeth are attached. Sometimes that is the best way to insure that the implants remain undisturbed as they go through the process of fusing to your jawbone, which is known as osseointegration.
In either case, you will need to go easy on your newly placed implants during the crucial healing phase following surgery. You will be advised to eat a softer diet and avoid hard, chewy foods until the process of osseointegration is complete — about three months. While this may seem like a long time, keep in mind that people who wear removable dentures often avoid these foods permanently. The good news is that once your implants have fused to your jawbone and your new permanent teeth are attached, you will be able to eat anything you want. In fact, you are likely to forget you even have dental implants!
Related Articles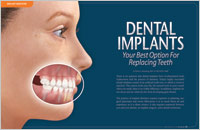 Dental Implants – Your Best Option For Replacing Teeth Dental implants have many advantages over older methods of tooth replacement like bridges and dentures — from the way they function and feel to the way they look and last. Vigorous research has documented and confirmed that in the right situations, dental implant success rates are over 95%. It is no exaggeration to say that they have revolutionized dentistry. They may even change your life... Read Article
West Hartford
(860) 231-0565