Online Dental Education Library
Dr. Goldman and his staff strive to improve the overall health of our patients by focusing on preventing, diagnosing and treating conditions associated with your teeth and gums. Please use our dental library to learn more about dental problems and treatments available. If you have questions, please contact us.
Oral and maxillofacial surgeons are unique among dentists in that they all have completed an additional four years of hospital-based training alongside medical residents, and can administer all types of anesthesia. If you have a diseased or impacted tooth that needs to come out, implants to be placed, a suspicious lesion that needs a biopsy, or any other oral health condition requiring surgical diagnosis or treatment, we can help. Learn more about Oral Surgery.
Snoring & Sleep Apnea
Chronic loud snoring is a common symptom of Obstructive Sleep Apnea (OSA), which occurs when the upper airway is blocked to the point of causing significant airflow disruption, or even no airflow whatsoever for 10 seconds or more. This can be a dangerous situation. Learn more about Snoring & Sleep Apnea.
Tooth Extractions
There are times when it is in your best interest to have a tooth extracted (removed). This could be the case for a variety of reasons, including: damage or trauma to the tooth; an impacted wisdom tooth that may cause trouble for you later on; or overcrowding. Learn more about Tooth Extractions.
Implant Dentistry
If you are missing one or more teeth, dental implants offer the comfort and security of a permanent replacement that looks and functions just like your natural teeth. Dental implants also help preserve the tooth-supporting bone in your jaw that deteriorates when even one tooth is lost.
Oral Diagnosis & Biopsies
When it comes to detecting certain oral or systemic (whole-body) diseases, a thorough dental exam may be your first line of defense. Learn more about Oral Diagnosis & Biopsies.
Bone Grafting
Bone grafting, a minor in-office surgical procedure, is commonly used in dentistry to correct deficiencies in bone quality and to build support for teeth or dental implants. Learn more about Bone Grafting.
Sedation Dentistry & Anesthesia
We want you to have the most comfortable dental treatment experience possible. That's why we offer sedation, to help you relax, and/or anesthesia, to block your sensations of pain. Learn more about Sedation Dentistry.
Facial Trauma & Reconstructive Surgery
Oral and maxillofacial surgeons are capable of treating the full scope of injuries to the structures of the face, mouth or jaws — including the teeth, the bones of the jaws and face, and the tissue of the skin and gums. We can also treat congenital defects such as cleft palate.
TMJ Disorders
If you have chronic pain in or around your jaw, or find the movement of your jaw is restricted, you may be suffering from a temporomandibular joint (TMJ) disorder. Learn more about TMJ Disorders.
Treating Dental Emergencies
We can treat a variety of traumatic dental injuries, including teeth that have been moved or knocked out entirely. Please call our office for assistance, or click here to learn more about what to do in a dental emergency.
After a thorough, professional tooth cleaning, you know that your teeth look brighter and feel fresher. But tooth cleaning isn't just about appearances. It's the primary means of preventing and treating periodontal (gum) disease. Many studies have demonstrated a possible link between periodontal health and overall (systemic) health — which means regular tooth cleaning may benefit not just your mouth, but your whole body.
Why do teeth need special cleaning? Over time, dental plaque (a naturally occurring bacterial biofilm) and stains build up on tooth surfaces. Dental calculus (also called tartar), a harder deposit, can then form both above and below the gum line. A thorough dental cleaning removes these substances from the teeth, and helps keep disease-causing bacteria from proliferating.
Tooth cleaning is usually accomplished by the non-surgical technique of scaling, sometimes called "root debridement." It's typically a relatively painless procedure in which small dental instruments are used to physically remove deposits from the surfaces of teeth. At one time, scaling was performed entirely with manual tools. But in the last several decades, the ultrasonic scaler has changed all that.
What Is An Ultrasonic Scaler?
There are different types of ultrasonic scalers, but all of them work in a similar fashion: electromagnetic forces in the unit's hand-held "wand" cause its tiny tip to vibrate rapidly. These vibrations, which occur at a rate faster than the speed of sound, effectively blast away plaque, calculus and stains from the tooth surfaces.
A small stream of water and/or antibacterial mouthwash, which emerges near the tip of the scaler, is called lavage. Lavage is used to cool the ultrasonic scaler's tip and flush away debris from the area being treated. The vibrating tip causes some of the water to break into millions of tiny bubbles, an effect called cavitation. This ruptures the walls of bacterial cells and helps create an environment that's less hospitable to harmful bacteria.
Ultrasonic Scaling vs. Hand Scaling
Studies show that a thorough ultrasonic cleaning takes about one-third less time as compared to hand scaling — which means you need less time in the chair. Many patients prefer ultrasonics to other types of scaling, possibly because it requires the clinician to use less force than a hand scaler to get the same effect. In ultrasonic scaling, only the tip of the tool touches the tooth surface, and only for a short time.
It's also possible to remove deposits of plaque and tartar from under the gum line by using an extremely small tip on an ultrasonic unit, which can cause less discomfort and result in a deeper and better cleaning. Sometimes an ultrasonic scaler is used first, and then any stubborn areas are scaled by hand.
The Experience of Ultrasonic Scaling
Anyone who has a substantial buildup of tartar or is prone to gum disease can benefit from ultrasonic scaling. It can also help to remove stains from coffee and cigarettes, for example. Yet, for all its power, most people experience little or no discomfort during the procedure.
If you have very sensitive teeth, it may be possible to alleviate some discomfort by using slimmer tips on the scaler. Alternatively, a topical anesthetic may be applied, or conscious sedation can be administered. The power range, the flow of lavage water and the frequency of tip vibration may also be adjusted for increased comfort.
Special tips are also available to clean composite or porcelain tooth restorations, titanium implants, or areas of demineralization (enamel loss) on your teeth. If you have a cardiac pacemaker, be sure to alert all dental professionals/personnel before ultrasonic scaling treatment, so precautions can be taken.
Related Article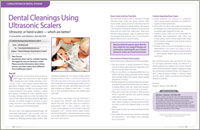 Dental Cleanings Using Ultrasonic Scalers Rapidly changing technology has revolutionized periodontal therapy with the integration of power scaling techniques resulting in improved clinical outcomes, patient comfort, and reduced time and physical demands on clinicians... Read Article
West Hartford
(860) 231-0565