Online Dental Education Library
Dr. Goldman and his staff strive to improve the overall health of our patients by focusing on preventing, diagnosing and treating conditions associated with your teeth and gums. Please use our dental library to learn more about dental problems and treatments available. If you have questions, please contact us.
Oral and maxillofacial surgeons are unique among dentists in that they all have completed an additional four years of hospital-based training alongside medical residents, and can administer all types of anesthesia. If you have a diseased or impacted tooth that needs to come out, implants to be placed, a suspicious lesion that needs a biopsy, or any other oral health condition requiring surgical diagnosis or treatment, we can help. Learn more about Oral Surgery.
Snoring & Sleep Apnea
Chronic loud snoring is a common symptom of Obstructive Sleep Apnea (OSA), which occurs when the upper airway is blocked to the point of causing significant airflow disruption, or even no airflow whatsoever for 10 seconds or more. This can be a dangerous situation. Learn more about Snoring & Sleep Apnea.
Tooth Extractions
There are times when it is in your best interest to have a tooth extracted (removed). This could be the case for a variety of reasons, including: damage or trauma to the tooth; an impacted wisdom tooth that may cause trouble for you later on; or overcrowding. Learn more about Tooth Extractions.
Implant Dentistry
If you are missing one or more teeth, dental implants offer the comfort and security of a permanent replacement that looks and functions just like your natural teeth. Dental implants also help preserve the tooth-supporting bone in your jaw that deteriorates when even one tooth is lost.
Oral Diagnosis & Biopsies
When it comes to detecting certain oral or systemic (whole-body) diseases, a thorough dental exam may be your first line of defense. Learn more about Oral Diagnosis & Biopsies.
Bone Grafting
Bone grafting, a minor in-office surgical procedure, is commonly used in dentistry to correct deficiencies in bone quality and to build support for teeth or dental implants. Learn more about Bone Grafting.
Sedation Dentistry & Anesthesia
We want you to have the most comfortable dental treatment experience possible. That's why we offer sedation, to help you relax, and/or anesthesia, to block your sensations of pain. Learn more about Sedation Dentistry.
Facial Trauma & Reconstructive Surgery
Oral and maxillofacial surgeons are capable of treating the full scope of injuries to the structures of the face, mouth or jaws — including the teeth, the bones of the jaws and face, and the tissue of the skin and gums. We can also treat congenital defects such as cleft palate.
TMJ Disorders
If you have chronic pain in or around your jaw, or find the movement of your jaw is restricted, you may be suffering from a temporomandibular joint (TMJ) disorder. Learn more about TMJ Disorders.
Treating Dental Emergencies
We can treat a variety of traumatic dental injuries, including teeth that have been moved or knocked out entirely. Please call our office for assistance, or click here to learn more about what to do in a dental emergency.
When dental emergencies and pain occur, our attention is often focused on diseases and injuries related to the teeth. However, it's important to remember that the soft tissues of the mouth — the gums, tongue, lips and cheek lining — may also be affected. While they are tough enough to stand up to the oral environment, these tissues can be damaged by accidental bites, falls, sports injuries, and scalding liquids. They may also suffer injury from foreign bodies that become lodged below the gum line, and they can develop painful and potentially serious abscesses.
First Aid for Soft Tissues
Soft tissue injuries in the mouth don't usually bleed excessively — although blood mixing with saliva may make any bleeding appear worse than it actually is. To assist someone with this type of injury, you should first try to rinse the mouth with a dilute salt water solution. If a wound is visible, it can be cleaned with mild soap and water; if that isn't possible, try to remove any foreign material by hand, and rinse again.
Bleeding can usually be controlled by pressing damp gauze (or, if unavailable, another clean material) directly to the site of the injury, and keeping it there for 10-15 minutes. If the bleeding doesn't stop, immediate medical attention will be needed. Try to see a dentist within 6 hours of the injury for evaluation and treatment. This usually involves determining the extent of the damage, performing initial restorative procedures, and occasionally suturing (stitching) the wound. An antibiotic and/or tetanus shot may also be given.
Foreign Bodies
Occasionally, foreign objects may become lodged in the space between teeth and gums, causing irritation and the potential for infection. There are a few foods (such as popcorn husks) that seem especially prone to doing this, but other items placed in the mouth — like wood splinters from toothpicks or bits of fingernail, for example — can cause this problem as well.
If you feel something stuck under the gum, you can try using dental floss to remove it: Gently work the floss up and down below the gum line to try and dislodge the object. Light pressure from a toothpick may also help work it free — but avoid pressing too hard or pushing the object in deeper. If that doesn't work, see a dentist as soon as possible. Special tools may be needed to find and remove the object, and you may be given medication to prevent infection.
Periodontal (Gum) Abscesses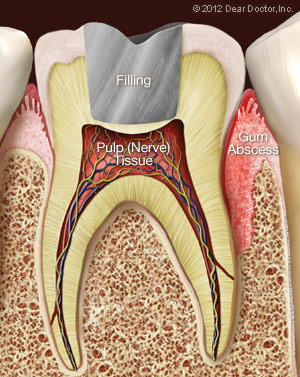 Sometimes called a gum boil, a periodontal abscess is a pus-filled sac that may form between teeth and gums. It is caused by an infection, which may have come from food or other objects trapped beneath the gum line, or from uncontrolled periodontal disease. Because pressure builds up quickly inside them, abscesses are generally quite painful. Symptoms may include a throbbing toothache which comes on suddenly, tenderness and swelling of the gums or face, and sometimes fever. Occasionally, pus draining into the mouth through an opening in the sac relieves the pressure and pain, but may cause a strange taste.
If left untreated, abscesses can persist for months and cause serious health problems, including infections that spread to other parts of the body. That's why it is important to see a dentist right away if you experience symptoms. He or she will find the location of the abscess and treat it appropriately. Treatment usually involves draining the pus and fluid, thoroughly cleaning the affected area, and controlling the infection.
Related Articles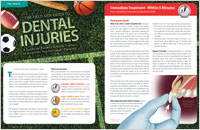 The Field-Side Guide to Dental Injuries Accidents to the teeth, jaws and mouth can happen at any time during any sporting activity. Proper attention can save pain, alleviate anxiety and costly dental treatment. A little knowledge, as they say, can go along way. This field-side guide briefly explains some simple rules to follow when dealing with different dental injuries and when you need to see the dentist... Read Article
West Hartford
(860) 231-0565