Online Dental Education Library
Dr. Goldman and his staff strive to improve the overall health of our patients by focusing on preventing, diagnosing and treating conditions associated with your teeth and gums. Please use our dental library to learn more about dental problems and treatments available. If you have questions, please contact us.
Oral and maxillofacial surgeons are unique among dentists in that they all have completed an additional four years of hospital-based training alongside medical residents, and can administer all types of anesthesia. If you have a diseased or impacted tooth that needs to come out, implants to be placed, a suspicious lesion that needs a biopsy, or any other oral health condition requiring surgical diagnosis or treatment, we can help. Learn more about Oral Surgery.
Snoring & Sleep Apnea
Chronic loud snoring is a common symptom of Obstructive Sleep Apnea (OSA), which occurs when the upper airway is blocked to the point of causing significant airflow disruption, or even no airflow whatsoever for 10 seconds or more. This can be a dangerous situation. Learn more about Snoring & Sleep Apnea.
Tooth Extractions
There are times when it is in your best interest to have a tooth extracted (removed). This could be the case for a variety of reasons, including: damage or trauma to the tooth; an impacted wisdom tooth that may cause trouble for you later on; or overcrowding. Learn more about Tooth Extractions.
Implant Dentistry
If you are missing one or more teeth, dental implants offer the comfort and security of a permanent replacement that looks and functions just like your natural teeth. Dental implants also help preserve the tooth-supporting bone in your jaw that deteriorates when even one tooth is lost.
Oral Diagnosis & Biopsies
When it comes to detecting certain oral or systemic (whole-body) diseases, a thorough dental exam may be your first line of defense. Learn more about Oral Diagnosis & Biopsies.
Bone Grafting
Bone grafting, a minor in-office surgical procedure, is commonly used in dentistry to correct deficiencies in bone quality and to build support for teeth or dental implants. Learn more about Bone Grafting.
Sedation Dentistry & Anesthesia
We want you to have the most comfortable dental treatment experience possible. That's why we offer sedation, to help you relax, and/or anesthesia, to block your sensations of pain. Learn more about Sedation Dentistry.
Facial Trauma & Reconstructive Surgery
Oral and maxillofacial surgeons are capable of treating the full scope of injuries to the structures of the face, mouth or jaws — including the teeth, the bones of the jaws and face, and the tissue of the skin and gums. We can also treat congenital defects such as cleft palate.
TMJ Disorders
If you have chronic pain in or around your jaw, or find the movement of your jaw is restricted, you may be suffering from a temporomandibular joint (TMJ) disorder. Learn more about TMJ Disorders.
Treating Dental Emergencies
We can treat a variety of traumatic dental injuries, including teeth that have been moved or knocked out entirely. Please call our office for assistance, or click here to learn more about what to do in a dental emergency.
Cavities are little holes in teeth that can eventually cause big problems. They form when tooth-eroding acid attacks a tooth's protective outer covering (enamel). This acid mainly comes from two sources: your diet, and certain oral bacteria that thrive in the absence of effective oral hygiene. If cavities are not treated promptly, decay-causing bacteria can get further into the tooth, leading eventually to root-canal problems and even tooth loss. The good news is that cavities are completely preventable — meaning it is truly possible to keep all of your natural teeth for life! Here are our top three tips to keep decay away:
Brush & Floss Every Day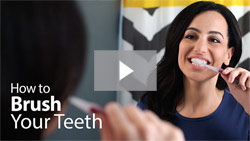 Cavity prevention starts with a good oral hygiene routine. This will remove dental plaque — a sticky film that harbors food particles and harmful bacteria. Flossing is particularly important because a toothbrush can't reach in between the teeth the way floss can. Make sure to floss both sides of every tooth, including the back molars, at least once each day. Brush your teeth at least twice each day, using a toothpaste that contains fluoride — a mineral that can become part of your tooth enamel and actually repair tiny cavities that are starting to form.
Pay Attention to Your Diet
Certain foods and beverages are no friends to your teeth, and soda tops the list. Soda, sports drinks, and so-called "energy drinks" are all acidic — even the sugar-free varieties. The acids they contain attack tooth enamel and make your teeth more prone to decay. Fruit juices can also be very acidic. Drinking water is much better for your dental health, not only because it has a completely neutral pH (is non-acidic), but also because it helps replenish your saliva — which has natural cavity-fighting properties. Sugary and starchy foods (cookies, candy, donuts, and chips) are also a problem — especially when they are not promptly cleaned from your mouth. They nourish the oral bacteria that cause cavities and raise the acidity level in your mouth.
See Your Dentist Regularly
Routine professional cleanings and exams are a great way to maintain excellent oral health. Your dental hygienist can clean areas of your mouth that you can't reach with your toothbrush or even with floss. We can check for early signs of tooth decay and take prompt action. What's more, we can recommend specific preventive treatments if you are particularly prone to cavities. These include in-office fluoride treatments and dental sealants, both of which are quick, easy and effective procedures. Special mouthrinses might also be recommended. Working together, we can make sure your oral hygiene routine is all it should be and that decay is kept at bay.
Related Articles
West Hartford
(860) 231-0565