Cleft Lip & Palate Repair
Online Dental Education Library
Dr. Goldman and his staff strive to improve the overall health of our patients by focusing on preventing, diagnosing and treating conditions associated with your teeth and gums. Please use our dental library to learn more about dental problems and treatments available. If you have questions, please contact us.
Oral and maxillofacial surgeons are unique among dentists in that they all have completed an additional four years of hospital-based training alongside medical residents, and can administer all types of anesthesia. If you have a diseased or impacted tooth that needs to come out, implants to be placed, a suspicious lesion that needs a biopsy, or any other oral health condition requiring surgical diagnosis or treatment, we can help. Learn more about Oral Surgery.
Snoring & Sleep Apnea
Chronic loud snoring is a common symptom of Obstructive Sleep Apnea (OSA), which occurs when the upper airway is blocked to the point of causing significant airflow disruption, or even no airflow whatsoever for 10 seconds or more. This can be a dangerous situation. Learn more about Snoring & Sleep Apnea.
Tooth Extractions
There are times when it is in your best interest to have a tooth extracted (removed). This could be the case for a variety of reasons, including: damage or trauma to the tooth; an impacted wisdom tooth that may cause trouble for you later on; or overcrowding. Learn more about Tooth Extractions.
Implant Dentistry
If you are missing one or more teeth, dental implants offer the comfort and security of a permanent replacement that looks and functions just like your natural teeth. Dental implants also help preserve the tooth-supporting bone in your jaw that deteriorates when even one tooth is lost.
Oral Diagnosis & Biopsies
When it comes to detecting certain oral or systemic (whole-body) diseases, a thorough dental exam may be your first line of defense. Learn more about Oral Diagnosis & Biopsies.
Bone Grafting
Bone grafting, a minor in-office surgical procedure, is commonly used in dentistry to correct deficiencies in bone quality and to build support for teeth or dental implants. Learn more about Bone Grafting.
Sedation Dentistry & Anesthesia
We want you to have the most comfortable dental treatment experience possible. That's why we offer sedation, to help you relax, and/or anesthesia, to block your sensations of pain. Learn more about Sedation Dentistry.
Facial Trauma & Reconstructive Surgery
Oral and maxillofacial surgeons are capable of treating the full scope of injuries to the structures of the face, mouth or jaws — including the teeth, the bones of the jaws and face, and the tissue of the skin and gums. We can also treat congenital defects such as cleft palate.
TMJ Disorders
If you have chronic pain in or around your jaw, or find the movement of your jaw is restricted, you may be suffering from a temporomandibular joint (TMJ) disorder. Learn more about TMJ Disorders.
Treating Dental Emergencies
We can treat a variety of traumatic dental injuries, including teeth that have been moved or knocked out entirely. Please call our office for assistance, or click here to learn more about what to do in a dental emergency.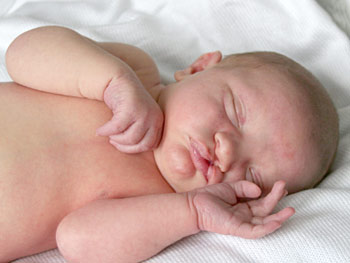 Cleft lip and cleft palate are among the most common birth defects, estimated to affect around one in 700-800 babies born in North America. Both problems result from the incomplete formation of anatomical structures (the lips and the palate, or "roof of the mouth") which develop during early pregnancy. These conditions may occur separately or together, and they can have a wide variation in severity. With proper treatment, however, in most cases the child has an excellent chance of leading a healthy, normal life.
Besides the noticeable irregularity in appearance, a cleft lip or palate can cause difficulties with feeding and speech. Both conditions are also associated with ear infections, hearing loss and dental problems. To fully address these problems, a child may require several surgical procedures, performed at different times. That's why a team approach is often used to treat this complex condition. Members of the medical team may include an oral surgeon, a pediatric dentist, an orthodontist, a plastic surgeon, and other specialists.
In general, the first goal of treatment is to repair or "close" the gap in the lip and/or palate as soon as it is practical for the child — as early as 2 to 9 months of age. Follow-up treatment may be needed to restore the appropriate form and function of the lips, teeth, and jaws (for proper speech, eating, etc) and to correct hearing problems. These procedures may include plastic surgery, orthodontics, orthognathic (jaw) surgery and speech therapy.
Surgical Treatment for Cleft Lip or Palate
Cleft lip or palate surgery is usually performed in a hospital setting, and may be done when an infant is 6 to 12 weeks old. Intravenous sedation or general anesthesia is used, so your child won't experience any pain. In cleft lip surgery, an incision is typically made on each side of the cleft. This creates several "flaps" of tissue, which are then sutured (stitched) together to close the gap. Suture lines are generally planned to follow the facial contours, so that the surgical scar will be as unobtrusive as possible.
Cleft palate treatment involves rebuilding the roof of the mouth, including soft tissue, muscle and bone. The initial surgery is often performed between the ages of 6 and 18 months. Like cleft lip surgery, it relies on specialized "flap" techniques to reposition soft tissues and close the gap. Before or after surgery, your child may need to wear a special appliance such as an obdurator (artificial palate) or a nasal alveolar molding device (NAM), a type of retainer.
Follow-Up Treatment
Depending on how complex the child's condition is, additional procedures may be required after the initial treatment to fully correct any defects. A child's treatment plan will often include pediatric dental examinations beginning around age one. Bone grafts to repair the hard palate may be recommended at age 8-11 years, when the cuspid teeth are developing. To correct problems with the alignment of teeth, orthodontic care may be needed beginning around age 12. In some situations, orthognathic surgery is recommended to address more severe jaw problems.
Handling a child's cleft lip or palate can be a challenge for caregivers and family members — but it's important to keep in mind that this relatively common birth defect can be successfully treated. Many who have this condition have gone on to become well-known performers, politicians, sports stars… as well as moms and dads, friends and neighbors.
Related Articles
West Hartford
(860) 231-0565