Nitrous Oxide for Children
Online Dental Education Library
Dr. Goldman and his staff strive to improve the overall health of our patients by focusing on preventing, diagnosing and treating conditions associated with your teeth and gums. Please use our dental library to learn more about dental problems and treatments available. If you have questions, please contact us.
Oral and maxillofacial surgeons are unique among dentists in that they all have completed an additional four years of hospital-based training alongside medical residents, and can administer all types of anesthesia. If you have a diseased or impacted tooth that needs to come out, implants to be placed, a suspicious lesion that needs a biopsy, or any other oral health condition requiring surgical diagnosis or treatment, we can help. Learn more about Oral Surgery.
Snoring & Sleep Apnea
Chronic loud snoring is a common symptom of Obstructive Sleep Apnea (OSA), which occurs when the upper airway is blocked to the point of causing significant airflow disruption, or even no airflow whatsoever for 10 seconds or more. This can be a dangerous situation. Learn more about Snoring & Sleep Apnea.
Tooth Extractions
There are times when it is in your best interest to have a tooth extracted (removed). This could be the case for a variety of reasons, including: damage or trauma to the tooth; an impacted wisdom tooth that may cause trouble for you later on; or overcrowding. Learn more about Tooth Extractions.
Implant Dentistry
If you are missing one or more teeth, dental implants offer the comfort and security of a permanent replacement that looks and functions just like your natural teeth. Dental implants also help preserve the tooth-supporting bone in your jaw that deteriorates when even one tooth is lost.
Oral Diagnosis & Biopsies
When it comes to detecting certain oral or systemic (whole-body) diseases, a thorough dental exam may be your first line of defense. Learn more about Oral Diagnosis & Biopsies.
Bone Grafting
Bone grafting, a minor in-office surgical procedure, is commonly used in dentistry to correct deficiencies in bone quality and to build support for teeth or dental implants. Learn more about Bone Grafting.
Sedation Dentistry & Anesthesia
We want you to have the most comfortable dental treatment experience possible. That's why we offer sedation, to help you relax, and/or anesthesia, to block your sensations of pain. Learn more about Sedation Dentistry.
Facial Trauma & Reconstructive Surgery
Oral and maxillofacial surgeons are capable of treating the full scope of injuries to the structures of the face, mouth or jaws — including the teeth, the bones of the jaws and face, and the tissue of the skin and gums. We can also treat congenital defects such as cleft palate.
TMJ Disorders
If you have chronic pain in or around your jaw, or find the movement of your jaw is restricted, you may be suffering from a temporomandibular joint (TMJ) disorder. Learn more about TMJ Disorders.
Treating Dental Emergencies
We can treat a variety of traumatic dental injuries, including teeth that have been moved or knocked out entirely. Please call our office for assistance, or click here to learn more about what to do in a dental emergency.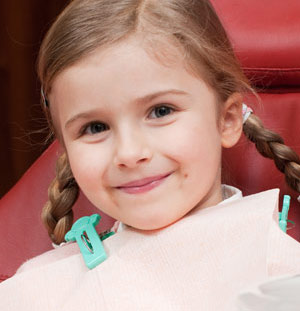 Some children are just too fearful to receive necessary dental care. In that type of situation, conscious sedation with nitrous oxide may be recommended to help make your child's experience of dental treatment stress-free.
Nitrous oxide, a colorless gas with a slightly sweet odor, has been used in medicine for about a century. It's a safe and effective method of administering conscious sedation, which means that a child (or adult) will stay awake during the procedure, but feel completely relaxed — even happy. All bodily functions remain normal during the administration of nitrous oxide, and its effects wear off quickly afterwards.
How Is Nitrous Oxide Administered?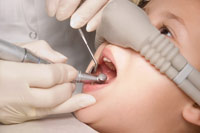 As a form of conscious sedation, nitrous oxide is inhaled through a small mask that fits comfortably over a child's nose. The gas is mixed with oxygen as it is being delivered, and both gases are always kept at a level that is safe for the body. In just a few minutes, the patient may start to experience a floating sensation, and perhaps some tingling in the hands and feet. That's a sign that the sedation is working. Once it has been verified that your child is calm and comfortable, and that the dose is correct, the dental procedure can begin.
Nitrous oxide itself isn't a substitute for a local anesthetic in children or adults as it's considered an anxiolytic, which means it makes anxiety disappear. However, for some pediatric procedures, a child receiving nitrous oxide may not need an anesthetic injection. Even if they do need a numbing shot, they won't mind at all while under sedation with nitrous oxide. Yet they won't be asleep — they'll be able to speak, be aware of what's going on, and they will remain in control during the procedure. In fact, the dose can be fine-tuned to just the level of sedation they need to make them comfortable yet alert.
When the procedure is over, the flow of nitrous oxide is decreased to zero, and the oxygen will be increased. After resting in the chair for a few minutes, the child will feel completely normal.
Who Can Benefit From Nitrous Oxide?
Any child whose anxiety would preclude dental treatment can benefit from conscious sedation with nitrous oxide. Before your child is treated, you will be asked for a complete medical history, including any medications your child is taking. Your child will be kept safe and comfortable throughout the procedure, and will likely not remember a thing about it afterwards.
Related Articles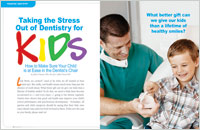 Taking the Stress Out of Dentistry for Kids Finding a dental practice should be like finding your child a cuddly warm blanket — a comfortable and secure environment in which real communication can occur. Nowadays, all parents and child caregivers should be saying that their little ones enjoy dental visits and even look forward to them. If this isn't the case in your family, our experts will tell you how it can be... Read Article
West Hartford
(860) 231-0565